Events
COMING UP
Annual General Meeting 2015
Tuesday 24 March 2015, 7.45pm
Cottenham Community Centre Coffee Shop

PLEASE NOTE - this will be an important meeting which will include a key discussion about the future of the group. The decisions made at this meeting are likely to determine the future direction of the group (including the potential option of closure). We would urge as many members to attend as possible.
RECENT EVENTS
Avoiding Gridlock
Two talks on local transport issues
followed by the Group's AGM 2014
Wednesday 5th March, 7.30pm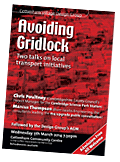 Cottemham Community Centre

Talks by
Chris Poultney Cambridgeshire County Council's Project Manage for the Cambridge Science Park Station)
Marcus Thompson (from Jacobs Engineering, the consultants leading the A14 upgrade public consultation)


RECENT EVENTS
AGM 2013
Tuesday 5th March, 7.45pm
Cottemham Community Centre

How BIG should Cottenham be?
Presentations and informal debate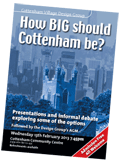 Wednesday 13th February 2013
at 7.45pm
Cottenham Community Centre
Several options have recently been put forward for the future development of the village, ranging from 500 more homes to 4,500. The Design Group hosted presentations exploring some of these options and the issues involved. Read a report on the meeting here
RECENT EVENTS
How local is the Localism Act?
Free talk Followed by the Group's AGM
Thursday 23rd February 2012 at 7.45pm
Cottenham Community Centre
There's been a lot of press coverage recently about proposed changes to national planning policy – including the controversial 'presumption in favour of sustainable development'. But the Localism Act also has the potential to deliver more power on planning matters to local communities such as ours. In this talk Andy Thompson of leading heritage and planning consultants Beacon Planning discussed neighbourhood planning and link this to the new National Planning Policy Framework.
The minutes of the AGM are available here.
50 New Houses?
Tuesday 13th December 2011, Cottenham Community Centre
David Wilson Homes gave a presentation on their proposal to build 50 new houses on the corner of Long Drove and Beach Road.
AGM 2011 and talk on Solar Power
Tuesday 15th March 2011, Cottenham Community Centre
Ken Doyle, from the Village Energy Project in Histon & Impington, will talk on solar panels, particularly in conservation areas and on listed buildings. Followed by the Group's AGM. FREE. Non-members Welcome. Refreshments available.
Visit to the Green House Project, St Ives
Saturday 12th February 2011
Guided tour of a 1960s house retro-fitted with evergy saving technology - find out more at: www.greenhouseproject.co.uk
Tour of Accordia, Cambridge
Saturday 16th October 2010
Self-guided audio tour of the Stirling Prize 2008 winning Accordia development in Cambridge - report in our Newsletter.
800 Years at All Saints Church
Saturday 30th and Sunday 31st October 2010
The Group will be providing a flower display at All Saints Church on Saturday and Sunday as the church is celebrating its 800th birthday. Do come along and enjoy the atmosphere of this historic church and see the arrangement from the Design Group.
Talk on the Proposed Improvements at Cottenham Village College and Annual General Meeting 2010
Tuesday 2nd March 2010
Drama Room at Cottenham Village College
Architects from Mouchel presented details of their work in the education field, including the proposed changes to the Village College that will deliver a new Sixth Form Centre and Technology Centre as well as other general improvements across the site. Followed by the Group's AGM.
Donarbon Visit
Friday 19th March 2010
Joint visit, with Cottenham Parish Council, to the Education Centre and Donarbon Waste Management Park, off the A10.
More information about Donarbon at www.donarbon.com/mbt

Walking Tours
Sat 20th & Sun 21st June 2009
Free guided walking tours on the buildings of Cottenham's historic High Street - part of the Fen Edge Family Festival.
Find out more (.pdf 1Mb)
On Your Bike!
Wednesday May 13th 2009
A talk on the Cycle Cambridge initiative with Mike Davies
Annual General Meeting and Talk 2009
Thursday February 26th 2009
Talk by John Clarke on the A14 improvements. Followed by the Group's AGM. Find out for more here ...
What Makes a House 'Eco'?
Tuesday November 11th 2008
Talk by award-winning local architect Meredith Bowles.
Letchworth Garden City Trip
September 13th 2008. For a report see our Newsletter.
SOME PREVIOUS EVENTS
Sept 2008 Day of Walks
Sept 2008 Autmn Show more ...
Feb 2008 Annual General Meeting more ...
Aug 2007 Public consultation - open meetings
Feb 2007 Annual General Meeting more...
Oct 2006 Talk on S Cambs Design Guide (David Grech)
Feb 2006 Annual General Meeting more...
Mar 2005 Cambourne ... lessons for Northstowe? more ...
Sep 2004 Flooding in Cottenham more...
Feb 2004 The Cambridgeshire Collection (Chris Jakes) more...
Feb 2004 Annual General Meeting more...
Mar 2003 Annual General Meeting more...
Committee meetings
Minutes of committee meetings will be posted here...